Probably my favorite Spice Girls track (admitting that feels weird :P) and it makes a strangely nice flute tune to play :) Mostly easy, but made a bit more challenging by a cluster of low D's and C's - great right little finger exercise!
F#  F#    F#     F#-E-F#       F#   F#    A     A  F#
Do you still remember how we used to be
B - B         B-A-A       A - G     G  G-F#-F#
Feeling together, believe in whatever
E      F#   F#   F#    G  F#
My love has said to me.
F#     F# F#   F#        E -  F#        F#        F#  A   A    F#
Both of us were dreamers young love in the sun
B       B     B      A - A      A    G-G  G   F#   F#
Felt like my saviour, my spirit I gave ya,
E      F#-F#    F#   G-F#
We'd only just begun...
E - F#   G-B-F#
Hasta Manana,
G - A    B    G
Always be mine...
G-G  F#-F#-E  F#  G   F#-D
Viva forever,  I'll  be waiting
E-F#-E-C        D     E    D
Everlasting, like the sun
G     F#-F#-E   F#    G    B - F#
Live forever, for the moment
G-A      A  -  G       G    F#   G
Ever searching for the one...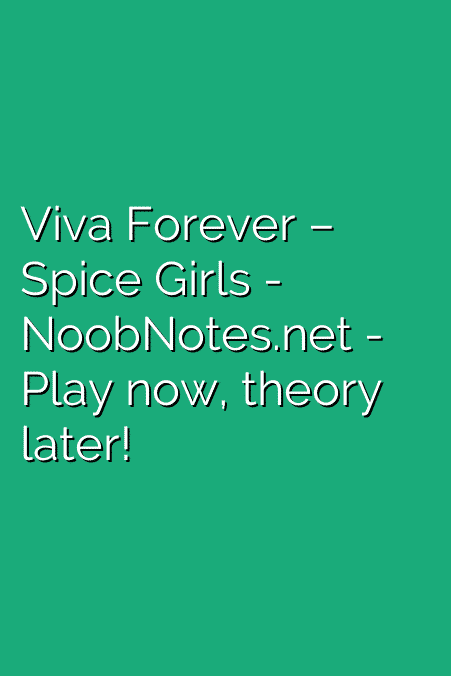 [wpdevart_facebook_comment curent_url="https://noobnotes.net/viva-forever-spice-girls/" order_type="social" title_text="Comments, chat, etc" title_text_position="left" width="100 animation_effect="random" count_of_comments="3"]