This irritatingly catchy song was much harder to work out the notes for than i originally anticipated! Still haven't quite twigged the middle part yet, but i think the rest is pretty much there. Good for flute but not piccolo.
E-F#   G       F#    E     E     G-E-G
Baby, can't you see I'm calling
E  G     F#    E       E         E        E  G-E-G
A guy like you should wear a warning
D     F# - E - D    C    D - C  E
It's dangerous, I'm fallin'
E               G    F#-E   E   G     EG
There's no escape, I can't wait
E  G      F# E   E-E   G      E    G
I need a hit baby, give me it
D            F# - E - D    C    D - C  E
You're dangerous I'm lovin' it
Too high can't come down
Losing my head spinning 'round and 'round
Do you feel me now...
E         G  ^E   ^D   B     B     A    A    G  ^D
With a taste of your lips I'm on a ride
^E         B-^E  B    ^E-^E    B-^E
You're toxic I'm slipping under
^F#   ^E  ^D  ^D-B    A-G-^D
Taste of a poison paradise
E      G  - B - A   G   G
I'm addicted to you
E          G      B           A      G          A-B
Don't you know that you're toxic
E      G  B      A        G     G
And I love what you do
E          G      B           A      G          A-E
Don't you know that you're toxic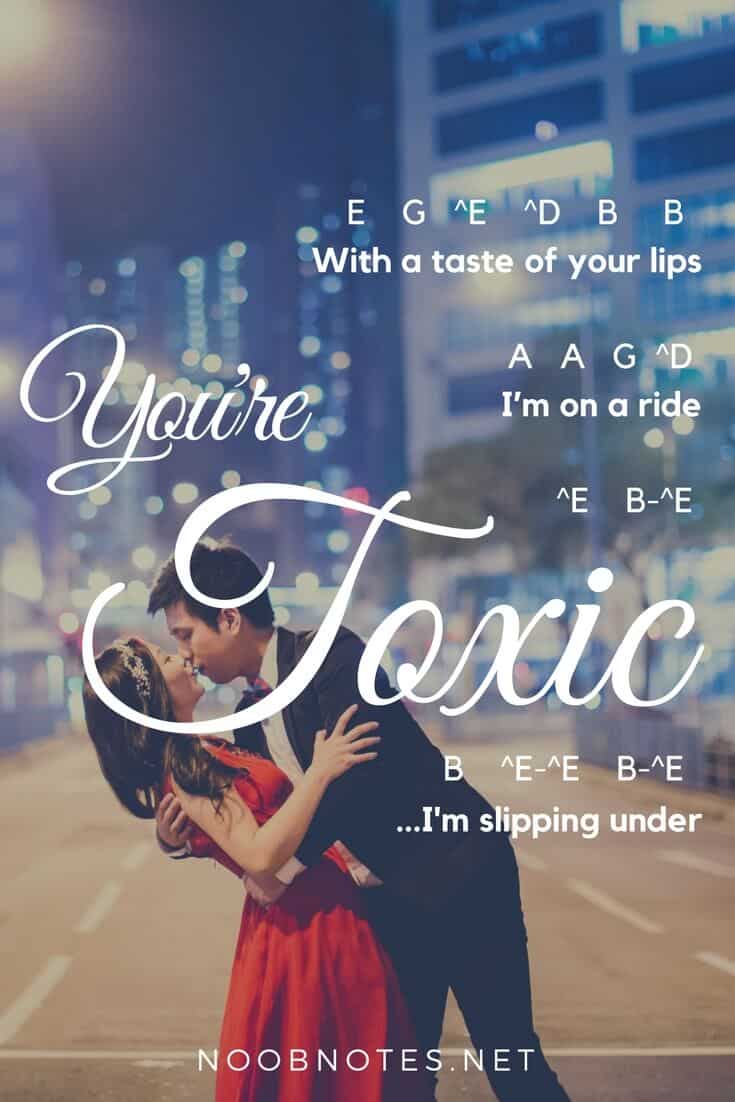 [wpdevart_facebook_comment curent_url="https://noobnotes.net/toxic-britney-spears/" order_type="social" title_text="Comments, chat, etc" title_text_position="left" width="100 animation_effect="random" count_of_comments="3"]