The All Saints cover of Red Hot Chili Peppers'  "Under the Bridge" hit the top of the UK charts in 1998 which might be why I know it better than the original, which peaked at #13 (over here anyway) in 1991. This means i've written up the notes for the the cover instead, sorry :D The chorus is pretty much identical in both versions.
B   -   B          B   G     E   D  G         G     E   A-E-D
Sometimes I feel like I don't have a partner
B  - G             B  G B-A-B D  G-A     E
Sometimes I feel like my only friend
D   D  A-E D G    A     B   B-G   B    B-G
Is the city I live in - the city of cities
D - B     B  B B-A-B-G-E
Lonely as I  am    ~
D-D-G       B    G     B    G     B    G
Together we cry, we cry, we cry...
^D ^D ^D-^D ^F  ^D ^C-B-^C
I don't     ever want to feel     ~
^C A ^C  ^D  ^D
Like I did that day
^D   ^D ^D ^D    ^F  ^D  ^C-B-^C
Take me to the place   I     love  ~
^C      A ^ C ^D    A
Take me all the way
^D ^D ^D-^D  ^F   ^D ^C-B-^C
I   don't   ever  want to  feel   ~
^C  A ^C   ^D  ^D
Like  I  did that day
^D    ^D ^D ^D   ^F  ^D ^C-B-^C
Take me  to the place  I   love
^C     A   ^C ^D  A-G-E
Take me all the way ~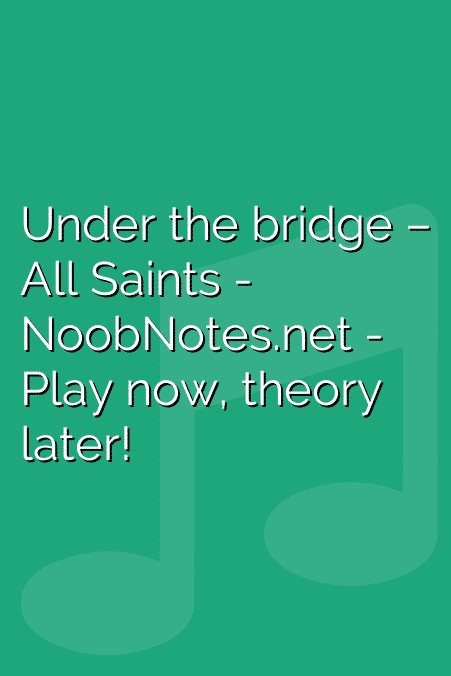 [wpdevart_facebook_comment curent_url="https://noobnotes.net/under-the-bridge-all-saints/" order_type="social" title_text="Comments, chat, etc" title_text_position="left" width="100 animation_effect="random" count_of_comments="3"]